Rev. Carolyn Stovall Gilbert
MWTV's slogan is
YOUR MISSION FIELD IS WHEREVER YOU ARE.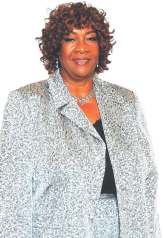 In 1993, Rev. Gilbert was released by her local church and pastors, Bishop David M. Copeland and Pastor Claudette A. Copeland and the New Creation Christian Fellowship to launch the work of Missionaries With The Vision, an interdenominational mission, discipleship and prayer ministry. MWTV is recognized by the State of Texas as a 501(3)C non-profit organization.
Rev. Gilbert's mission is to work with Pastors, Christians, Non-Christians and her community for the redemption of the world. She is committed to doing this by sharing the Gospel of Jesus Christ through prayer, evangelism, training, discipleship, and fellowship.
Under her leadership, MWTV established Missionary, Intercessor, Leadership Training Academy (MILTA) a two-year training program and a 24-Hour Prayer Hot Line consisting of trained Kingdom Warriors who pray, standing on Psalm 55:17. Currently, their membership extends to the states of Oklahoma, California, Arizona, and Maryland.
Rev. Gilbert has served as Host and Producer of "God's Word In Action" Radio Outreach Ministry that covers South Central Texas. She moves as a City-Wide Mobilizer working in concert with City-Wide leaders who have a heart for Reconciliation and Revival across our city and nation. She has faithfully served on the executive and advisory boards of Jesus Video Project, Billy Graham Crusade, Women's Prayer International, Transformation Ministry and City-Wide Women's Prayer Ministry.
In August 2003, she answered the call to plant, Christ International Tabernacle, a mission church in New Braunfels, Texas. She was consecrated as pastor by her pastors, Bishop and Pastor Copeland. Her vision was and continues to be to "Win Souls and Make Disciples".

During her tenure in New Braunfels, she was instrumental in the birthing of Pastors United In Prayer (PUIP). PUIPs purpose is about forging relationships by bringing pastors together with a Kingdom Perspective...believing that together great things can be done. PUIP was revamped in 2016 to include Pastors and Para-Church Leaders as Rev Gilbert strongly believes in Unity in the headship of God's ministries.
In 2009, MWTV returned to San Antonio to work with City-Wide leaders and broadening her traveling, teaching, spiritual retreats, workshops and preaching agenda.
In 2010, she united with Kingdom Life Christian Ministry under the awesome leadership of Apostle Tyronne and Tonya McCreary. It was in this year that MID (Mentor, Intern and Discipleship) program was released. MID works in partnership with the pastors of MID students in the spiritual development of men and women as they "Discover God's Will for their lives".
Rev. Gilbert penned her first book in 2013, "Journal of Reflections, as the vision unfolds". In her book, she shares her life story and the reality of one answering the call to ministry.