Our Story
***
Missionaries With The Vision (MWTV) was founded in 1993 as nonprofit 501 (c)3 interdenominational ministry that endeavors to empower people to identify and reach their God-given potential through evangelism, prayer, leadership development, classroom instruction, community service projects, outreach, mentoring, self-discovery and exposure to different cultures and the exciting world of missions.
MWTV is an interdenominational mission and prayer ministry serving the local, regional and national communities for more than twenty years. Our prayer is that you, your family and your church will connect with us and we with you as we unite together to make an impact for the Kingdom WHEREVER we are.It has been awesome to see God use ordinary people to do extraordinary things for Him and His people. We serve across denominational, social-economical, racial and gender lines. Our God-purpose is to train, disciple, mobilize and collaborate with others who have a heart for missions, prayer, leadership, and discipleship.
MWTV is a valuable resource for churches that desire to strengthen or develop their missions and prayer ministries through seminars at our place or yours. We also have a 24-hour prayer hotline and city-wide prayer team that is committed to praying for you and yours. Rev. Gilbert desires to change the "face" of missions by exposing a kaleidoscope of people of different ages, races and socioeconomic backgrounds to the world and opportunities of missions. She firmly believes that YOUR mission field is wherever YOU are!
Rev. Carolyn Stovall Gilbert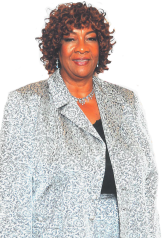 About The Woman and Her Vision
Rev. Carolyn Stovall Gilbert is President and Founder of Missionaries With The Vision. With over twenty years of ministry experience, it has been proven that she has a heart for God, God's people and Kingdom building. She is an intercessor, mentor, teacher, preacher, missionary, and administrator and has a pastor's heart. She has traveled aboard and ministered in Haiti, China, South Africa and Mexico. She is faithful to her own Jerusalem and continues to be used by God in ministering in the local church and community.