Missionaries With The Vision
Your Mission Field In Wherever You Are...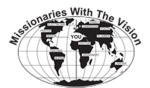 © - Missionaries With The Vision
Missionaries With The Vision offers various types of services that can be found in the panel to the right.
Please take a moment to view our capital campaign video to learn more about us and to see our services in action. Pastors Rune and 
Berta Brannstrom
The Kings Mission Fellowship
Southside Pastors Fellowship
San Antonio, Texas
Bishop David M. Copeland
Sr. Pastor
New Creation Christian Fellowship
Presiding Prelate of Kingdom Council Interdependent Churches and Ministries
San Antonio, Texas
Pastor Keith Graham
Sr. Pastor, Now Word Christian Church
San Antonio, Texas
Mrs. Mary Mize Hellums
Director, City Wide Women's Prayer Ministry
San Antonio, Texas
Apostle Tyronne McCreary
Sr. Pastor, Kingdom Life Christian Ministries
San Antonio, Texas

Additional Links -            Services               Additional Services Kingdom Warriors Prayer Conference Call
   Wed 6:00 - 6:30am  |   Thurs 5:00 - 6:00am
Pastors & Parachurch Leaders
   Wed 7:00 - 8:00am
MID Classes
    Tue 6:30 - 8:30pm
Missionaries With The Vision
MWTV is an interdenominational mission and prayer ministry serving the local, regional and national communities for more than twenty years.
         Services Provided
• 
Prayer | Leadership | Mission | Discipleship
• 
24hr Prayer Line: 210-227-6988
• 
Prayer Breakfast, Retreats & Fellowships
• 
Training Seminars & Conferences
• 
Short-Term Mission
T
rips
• 
City Mobilizers | Collaborators Promoting Unity
• 
Weekly Prayer Conference Calls
  Kingdom Warriors Prayer Ministry
• 
Manages our 24-Hr Prayer Line.
• 
Pray weekly via Teleconference.
• 
Composed of Men, Women, Multicultural, Main and Interdenominational churches.
• 
Experienced & Non-experienced are welcomed to join! Prayer training provided.
 Mentee, Intern & Discipleship
Leadership Program
• 
Curriculum-based study:
Discovering God's Will
.
• 
Biblical & practical teaching to 
personal discovery, and spiritual growth.